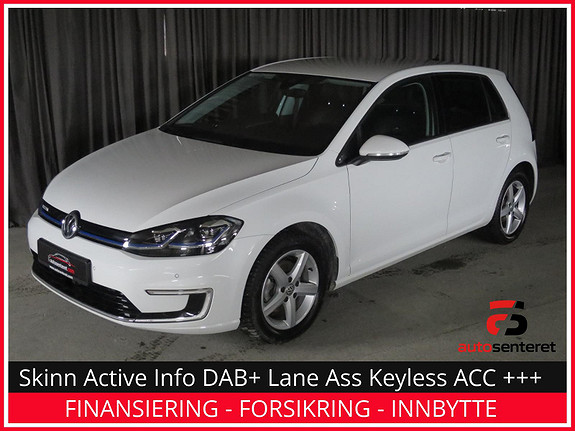 Se flere bilder
Pris kr. 309000.-
Service:
Servicehistorikk
Pris eks omreg:
Kr 309000.-
Denne e-postadressen er beskyttet mot programmer som samler e-postadresser. Du må aktivere javaskript for å kunne se den.
---
Kontaktinformasjon
Åpningstider: 07:00-18:00
Vikhammerløkka, 7560 Vikhammer
Tlf: 73 97 43 00
Denne e-postadressen er beskyttet mot programmer som samler e-postadresser. Du må aktivere javaskript for å kunne se den.
Beskrivelse

---
2017 VW e-Golf 300 KM Bra utstyrt! ++ INNBYTTE/FINANS

Her har du muligheten til å skaffe deg en flott faceliftutgave av VW e-Golf med rekkevidde inntil 300 KM og veldig mye fint utstyr!

Bilen har en meget pen fargekombinasjon og er veldig godt utstyrt med for eksempel svarte Vienna skinnseter, active info display, DAB+, nøkkelfri adgang og start, ryggekamera, lane assist, traffic jam assist, emergency assist, dynamic light assist, interiørlys Ambiente, ES7 hurtigladermulighet, navigasjon, LED-lys, park.sensorer foran, park.sensorer bak, varmeseter, skiltgjenkjenning, adaptiv cruise control, "not hot country", mørke ruter, skinntrukket mf-ratt, elektrisk innfellbare speil, sommerhjul, vinterhjul og mye mer!

Se komplett utstysliste under:
2H5 Driving profile selection and
conventional shock absorber
9WX Mirror Link and wireless RSE "App"
3B4 Child seat anchors for
child seat system ISOFIX
9TC Additional retro-reflectors (door area)
4UP Airbag for driver and front passenger
with knee airbag and front passenger
airbag deactivation
0K9 Drive system BEV
8ZH Antenna for AM/FM reception, "diversity"
7AS Anti-theft alarm system, interior
monitoring, backup horn and towing
protection
QH1 Voice control
T9C Electric motor
unit 0EA.D
J2D Battery 380 A (68 Ah)
K8G Hatchback
9U1 Brake pad wear indicator
1ZE Disc brakes in front (Geomet D)
1KE Disc brakes in rear
1AP Electronic stability control (ESC)
with electromechanical brake booster
4L6 Breakaway interior rearview mirror,
auto-dimming
2JB Standard bumpers
NZ4 Private emergency call system
KA1 With rear view camera system (type 1)
QK1 With multifunction camera
5D1 Carrier frequency 433.92 MHz-434.42 Mhz
77G Data storage device for EU, integrated
6E3 Center armrest in front
3D1 Center console
3C7 3-point seat belt for center rear seat
EV8 Charging cable mode 2 (10 A) and
mode 3 type 2 (16 A) for EU
QJ1 Chrome package
0Y1 Standard climatic zones
QR9 With dynamic road sign display
B0A Component parts set without
country-specific building regulation
6FF Exterior mirror housings and various
add-on parts in body color
S0C Introductory volume
8T8 Adaptive cruise control (with
"follow-to-stop") and speed limiter
1Y3 Electronic differential lock XDS,
dynamic traction support
4I3 Central locking system Keyless Entry
without SAFELOCK
3LJ Door and side trim panel in foam film,
insert in leatherette
0A2 4 doors
1X0 Front-wheel drive
AV1 Driving on the right
EF1 ECO function
UI4 External, AUX-IN jack, USB type A,
1x USB socket
8Z5 Not hot country
D83 Electric motor 100 kW
base motor is T9C/N05
A8C Comfort equipment
7W2 With extended safety system
(proactive passenger protection system,
basic and front)
6XQ Exterior mirrors with memory feature,
power-folding/adjustable, separately
heated
2V5 Fresh air intake system with combination
filter
6K4 Forward collision warning incl.
autonomous emergency braking,
for adaptive cruise control "high"
8WG Cornering lamp
Q4H Sports comfort seats in front
0AE Front stabilizer bar
6Q2 Gearshift knob/handle in leather
C27 Operating permit, alteration
8GT DC-DC converter 1.8 kW
8IU LED headlamps
with variable light distribution
8K3 Separate daytime running light with
automatic headlight control and
Coming Home feature
8Q5 Dynamic headlight range control,
with cornering light (AFS 1)
5ZF Front head restraints
7E1 High-voltage PTC
9AK Climatronic with impact pressure
control, CFC-free
UG1 Hill start assist
8Y1 Two-tone horn
1EX Special identification label for EC
for M1 passenger vehicles
5MB Decorative inserts
0EZ Installation differentiation for
electric drive
U5A Instrument cluster, km/h speedometer
6T1 Interior light in footwell
5SL Left exterior mirror, aspherical
31F Front license plate carrier (large)
8G3 Advanced high-beam control
QQ3 Interior ambient lighting and surround
lighting
1PE Wheel bolts with anti-theft protection
(unlockable)
7P4 Manually adjustable lumbar support in
front seats
0FA Standard manufacturing sequence
1Q2 Mass damper for steering wheel, 36 Hz
4ZE Black decorative trims
9S8 Multi-function display/on-trip computer
- active info display
0NB Nameplate set in basic style
7UG Navigation system - High
EL5 Online service, with OCU, with head
unit coding, without engine immobilizer
interconnection
3ZB 3-point seat belts, outer rear with ECE
label
0VH Information kit in Dutch
FB0 Standard paint coating
5K7 Transport protection film (minimum
protection) with additional transport
protection measures
7X2 Park distance control in front and rear
UH2 Parking brake
VF0 Standard pedal cluster
VL3 Extended and proactive pedestrian
protection
4P0 Rear floor panel module, type 1
6KA Radiator grille
I8J Radio High (Gen2 GP)
8S6 2 reading lights in front
0N4 4-link rear suspension
8TB Rear fog lamp
3T2 Three rear head restraints
UK1 Standard rear seat release
3NU Unsplit rear seat bench, split folding
backrest, with center armrest
5J4 Body-colored rear spoiler
0BT Rear stabilizer bar
8M1 Rear window wiper and washer system
with intermittent control
KK3 Refrigerant R1234yf
1W2 Glove compartment cooling system
ER1 Regional code " ECE " for radio
EM1 Driver alert system
3QT 3-point seat belts in front, with
tensioner and height adjustment
5RQ Right exterior mirror, convex
7M7 Scuff plates in door apertures
3L3 Manual height adjustment for front seats
9P3 Seat belt reminder, electric contact in
buckle
N7D Seat trim covers in part leather
4A3 Seat heater for front seats
separately controlled
VI9 Service indicator 30 000 km or 2 years
( fix )
electric vehicle
G18 Shock absorption in front
1JA Rear shock absorption, basic version 1
4X3 Side airbag in front with curtain airbag
4KF Side windows in heat-insulating glass,
from B-pillar and rear window dark
tinted
79F Lane keeping sys., traffic jam ass., rr
traffic alert, BSM and semi-automatic
vehicle control in a medical emergency
9JB Smoker's package, ashtrays in front and
rear
7B2 12-volt socket in luggage boot
1G8 Breakdown kit
8RM 8 speakers (passive)
E0A No special edition
2KW Labels in German, French and Dutch
1N3 Speed-related variable steering assist
(Servotronic)
L0L Left-hand drive
2ZH Leather-wrapped multi-function steering
wheel
5XJ Sun visors with mirror, illuminated,
with airbag label on sun visor and
B-pillar
8SK LED rear combination lamp
9IE Mobile phone interface with W-LAN
(BT interface)
7K1 Tire pressure monitoring system
HB9 Tires 205/55 R16 91Q
super-low rolling resistance
1S3 Tool kit
G1Z Transmission for electric drive
(1-speed)
7N3 Comfort overhead storage compartment
QV3 Digital radio reception
B31 Type approval country Netherlands
GP1 Vehicles with special upgrade measures
7ZW Vehicle class differentiation -5GE-
ES7 Vehicle inlet Combo 2
(NAR)
F0A No special purpose vehicle, standard
equipment
L07 Suspension range 07
installation control only, no
requirement forecast
0YJ Weight range 9
installation control only, no
requirement forecast
1NL Trims for alloy wheels
0B1 Wheelbase
V19 Alloy wheels 6.5J x 16
4R4 Power windows with comfort operation and
circuit breaker
4GW Heat insulating windshield
8N6 Windshield wiper intermittent control
with light/rain sensor
P28 VE: driver assist. pack. incl. Traffic
Jam Assist/Emerg. Assist w/ Dyn. Light
Assist a. Dyn. Road Sign Display f. DSG
PF3 Adaptive Cruise Control ACC stop & go
upto 210 km/h, incl. Front Assist with
Pedestrian Monitoring
PLA Lights&Vision package
PLC Interior ambient lighting
PXC LED headlamps incl. dynamic cornering
light for advanced high-beam control
Dynamic Light Assist
WL0 Leather trim "Vienna" with sports seats
in front
YOZ Guide&Inform inkl. Security&Service


To sett hjul og garanti 5 år/100 000 KM er inkludert i prisen! (8 år/160 000 KM på batteriet)

PRIS KR. 309.000,-

Eksempel på finansiering 2.679,- per mnd!
Eksempel går ut fra 108.150,- i egenkapital (35%). Det kan være innbyttebil.

Alle våre biler leveres med 1 mnd gratis forsikring hos SMN*

Vi tilbyr
Finansiering gjennom Gjensidige, SMN og DNB
Forsikring gjennom Gjensidige og SMN
Innbytte er mulig!

Autosenteret Vikhammer har åpent
mandag-fredag 0700-1800
Utenfor åpningstid er vi tilgjengelige på telefon

Vi tar forbehold om feil i annonsen.

Besøk vår hjemmeside www.autosenteret.com/ for mer info.
Se biler vi har solgt på vår facebookside: https://www.facebook.com/autosenteret/?fref=ts
Ta gjerne kontakt per telefon eller kom innom.
Spesifikasjoner
---
Salgsform:
Bruktbil til salgs
Befinner seg i:
Vikhammer,Norge
---
---
Ekstrautstyr:

---
ABS-bremser
AUX tilkobling
Airbag foran
Antiskrens
Antispinn
Beltevarsler
Bluetooth
CD-spiller
Cruise Controll adaptive
Ekstra mørktonede vinduer bak
El.vinduer
Elektriske speil
Farget glass
Fjernstyrt sentrallås
Handsfree opplegg
Innfellbare Speil
Interiør sport
Isofix
Keyless go
Kjørecomputer
Klimaanlegg
Skinninteriør
LED-lykter
Ladeledning
Lettmet. felg sommer
Lettmet. felg vinter
Midtarmlene
Multifunksjonsratt
Navigasjonssystem
Nødbremseforsterker
Oppvarmede seter
Oppvarmede speil
Oppvarmet frontrute
Parkeringsensor bak
Parkeringsensor foran
Radio DAB+
Regnsensor
Regulerbart ratt
Ryggekamera
Servostyring
Seter nedfellbare bak
Skinnratt
Skinnseter
Sommerdekk
Stålbjelker
Startsperre
USB
Vinterdekk